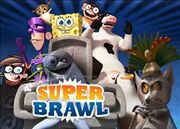 This game was released for the Super Bowl.
Characters
Edit
All Jingle Brawl characters (Unlockables now are unlocked)
Dr. Blowhole (The Penguins of Madagascar)
All from Jingle Brawl
Coney Island Hideout
Carnival
Fanlair
Ad blocker interference detected!
Wikia is a free-to-use site that makes money from advertising. We have a modified experience for viewers using ad blockers

Wikia is not accessible if you've made further modifications. Remove the custom ad blocker rule(s) and the page will load as expected.