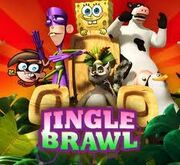 This game was released for Christmas.
Characters
Edit
SpongeBob (SpongeBob SquarePants)
Fanboy (Fanboy and Chum Chum)
Timmy Turner (The Fairly OddParents)
Otis (Barnyard)
Rico (The Penguins of Madagascar)
King Julien (Penguins of Madagascar)
Danny (Danny Phantom)
Aang (The Last Airbender)
Fairy World
Wasteland
Jungle
Frosty Mart
Penguin Lair
Farm Road
Amity Park
Ad blocker interference detected!
Wikia is a free-to-use site that makes money from advertising. We have a modified experience for viewers using ad blockers

Wikia is not accessible if you've made further modifications. Remove the custom ad blocker rule(s) and the page will load as expected.